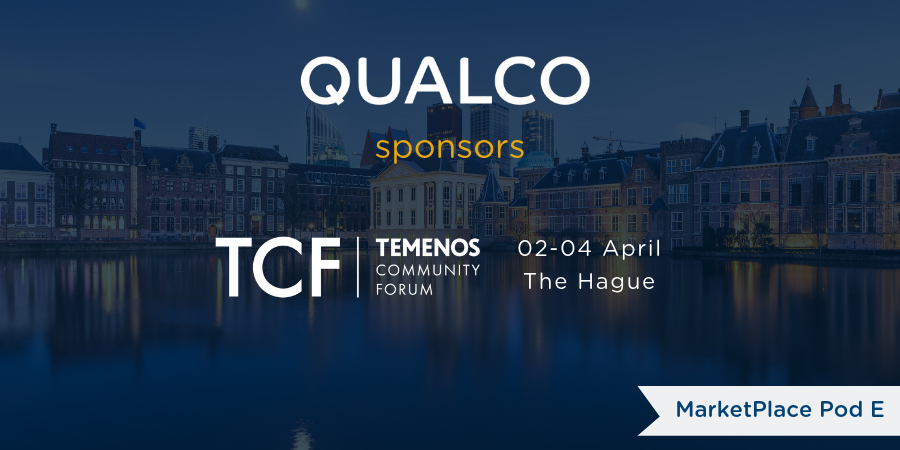 We are excited to announce that we are sponsoring this year's TCF

in the Hague on April 2-4, 2019.
---
Temenos Community Forum 2019
02-04 April
World Forum, The Hague
QUALCO, official Temenos Partner, is excited to sponsor the TCF19.
Titos Skourtsis, QUALCO's Business Development & Sales Director, is taking the stand on the Open Theater session titled "Achieving more with less in Collections – productivity growth and faster change" that will take place on Wednesday 3rd April from 12.15 to 12.45 in the Exhibition Hall ("The Hive").
Don't forget to stop by pod E on Tuesday 2nd April and meet our experts.
If you would like to arrange a meeting, please contact us at marketing@qualco.eu.
QUALCO is official Temenos Marketplace Partner who delivers Debt Portfolio Management Solution on Temenos' flagship offering T24. QUALCO Collections & Recoveries has been integrated with Temenos T24 (from R11 onwards) and is in operation at several T24 clients. Recently the cloud-based version of QUALCO Collections & Recoveries complemented the T24 MCB SaaS version. Learn more here.
About the event:
Every year, Temenos organizes its annual global event called Temenos Community Forum (TCF). This event is attended by over 1600 senior executives from banks, financial institutions (including start-ups), investors, analysts and media globally.
It is a platform where we encourage dialog amongst these different parties about the future of banking, addressing the increased pressures that banks experience when it comes to maintaining customer loyalty while adhering to the requirements from the regulators.
In its 20th year, it has become one of the largest banking and financial conferences in the world.
2019 Theme: DIGITAL BANKING RELOADED
Digital Banking Reloaded is the theme of this year's TCF. It celebrates a new era of cloud native, cloud agnostic digital technology that is giving banks the freedom to be creative, the power to innovate continuously, the resilience to cut risk – all at a significantly lower total cost of ownership.
This next generation of technology from Temenos allows banks to meet the challenges thrown up by new business models, new entrants and new regulations, to differentiate themselves and find new ways to enhance customers' lives. It facilitates real-time, highly personalised, valued-added banking delivered in conjunction with third parties.
Temenos Infinity is a breakthrough digital cloud-native front-end. It is independently deployable to help banks transform multi-siloed banking channels and legacy systems into fast, consistent frictionless customer journeys and allows banks to roll out new applications in hours rather than months. Temenos T24 Transact is the most complete core-banking platform on the market, leveraging the most advanced cloud-native and cloud agnostic banking technology available. Both take full advantage of open APIs to maximise flexibility.
They amount to the next logical step in our 25-year story of leading innovation and leverage all the functionality we have developed during that time for more than 3,000 banks in more than 150 countries. As a result, they are the most technologically advanced and functionally rich products in the world.
Banks wanting to not just stay in the game but be ahead of the game need the flexibility to be creative, to freedom to develop ecosystems that deliver the best customer experience at the best cost, the ability to innovate continuously. This is digital banking reloaded. This is the next generation of Temenos banking software.
Both Temenos Infinity and Temenos T24 Transact will be in action at TCF 2019. Book your place at one of the demonstrations and see firsthand what the future of digital banking looks like.
For more info concerning the TCF2019, visit https://www.temenos.com/