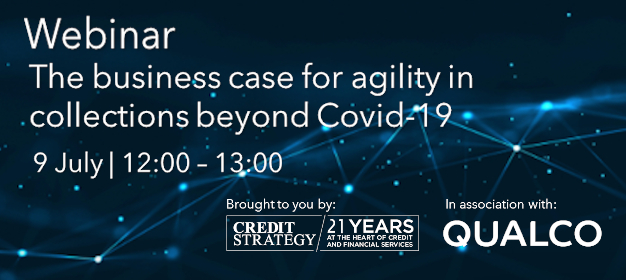 QUALCO in association with Credit Strategy, a premium UK brand with a broad footfall in financial services,will be hosting a webinar to explore best practice when deploying new technology and analytics – during the pandemic and beyond.

The webinar will provide information on:
Practical guidance for the do's and don'ts of fast operational changes in collections
The end result for customer experiences and outcomes
How a business case can be built, and proven, for deploying higher budgets in collections
The power of technology and analytics to ensure operational agility in collections
Best practice in the use of portfolio analytics
The webinar will be broadcast at 12 noon on 9 July.
After our cross-sector survey – Agility in collections through Covid-19 – the webinar will reveal the results, detailing trends of customer volumes in collections, the use of new tech, speeds of implementation and how firms rate the new tools they're using. Join the discussion, by taking the survey here.

Can't make the live webinar on 9 July at 12noon? Sign up anyway – a webinar recording with slides will be made available on demand after the broadcast.
#Webinar #Collections #Technology #COVID-19