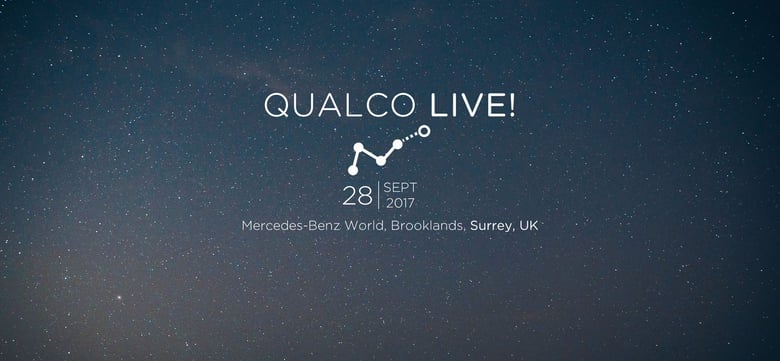 On September 28th, 2017 QUALCO UK will launch its brand new live event experience, bringing together the length and breadth of the collections and recoveries industry to sample an incisive programme of seminars, debates and Q&As with only one theme in mind; Smarter Collections: Predictive Analytics and Forecasting.
Why attend?
High level content
Find out how Artificial Intelligence might affect our sector
Don't write it off - discover how to optimise your niche collections portfolio
You can forecast customer behaviour! We'll show you how
Using technology is not enough to optimise collections – discover how best to handle it
Learn how to improve your Net Promoter Score in five simple steps
Three floors of attractions and exhibits, and you can take advantage of preferential driving experience rates.
Attendance is free
AGENDA
10am-11am Keynote: Artificial Intelligence
The finance industry is ripe for transformation by artificial intelligence and robo-advice. As lenders and servicers begin to use AI in customer support and analysis what does this mean for collections? Will AI enhance or threaten the customer experience, businesses and jobs? How can the industry take advantage of change? In this session we look to the future and ask where it can take collections.
11am-12pm Specialist showcases: demystifying niche collections
These showcases by industry experts will demystify the collections process in the niche areas of probate/deceased collections, insolvency and litigation. Clients will hear from specialist businesses about the challenges and opportunities in these segments.
Deceased/probate
Speaker from Philips & Cohen
Insolvency
Speaker from Baker Tilley
Litigation
Speaker from Moriarty Law
12pm-12.50pm Forecasting customer behaviour and portfolio performance
Analytics expert Panayis Fourniotis Pavlatos, director of intelligent decisions, Qualco, will reveal the results of a UK modelling programme undertaken in Q2&3 2017. The session will cover:
The relevance of portfolio analytics in the portfolio management decision-making process
How an automated framework can be used to handle multiple types of models in a uniform manner,
Linking an automated framework to day-to-day operational processes
Case study of the latest UK portfolio analysis and how it is being used to optimise collections in areas such as predicting 'contactability', probability of accepting an offer, and probability of honouring an arrangement
Break for lunch 1pm-2pm
2pm-2.45pm Achieving the balance between technology and servicing
Great technology is not enough to optimise collections – it's how you service technology that counts. This session will cover sourcing the best data, accurately interpreting that data and using it to forecast collections and third party performance. Measuring and monitoring in a dynamic economic environment.
Speakers from Qualco
2.45pm-3.15pm Customer Satisfaction – best practice
Debt purchaser 1st Credit holds the highest net promoter score in the industry. The company will explain how this has been achieved.
The case study will cover:
The value of independent assessments
Entrenching a customer service culture in a debt collection business
How to ensure continuous improvement and adaptation
Speaker from 1st Credit
3.15pm-4pm Income & Expenditure: standardising and sharing
This panel session will explore:
The difficulties around collecting I&E information from customers
What creditors would like to see happen in this space
The practical and regulatory challenges of standardising and sharing information
How the industry might be able to lessen the burden on consumers and agencies
Speaker from Callcredit Information Group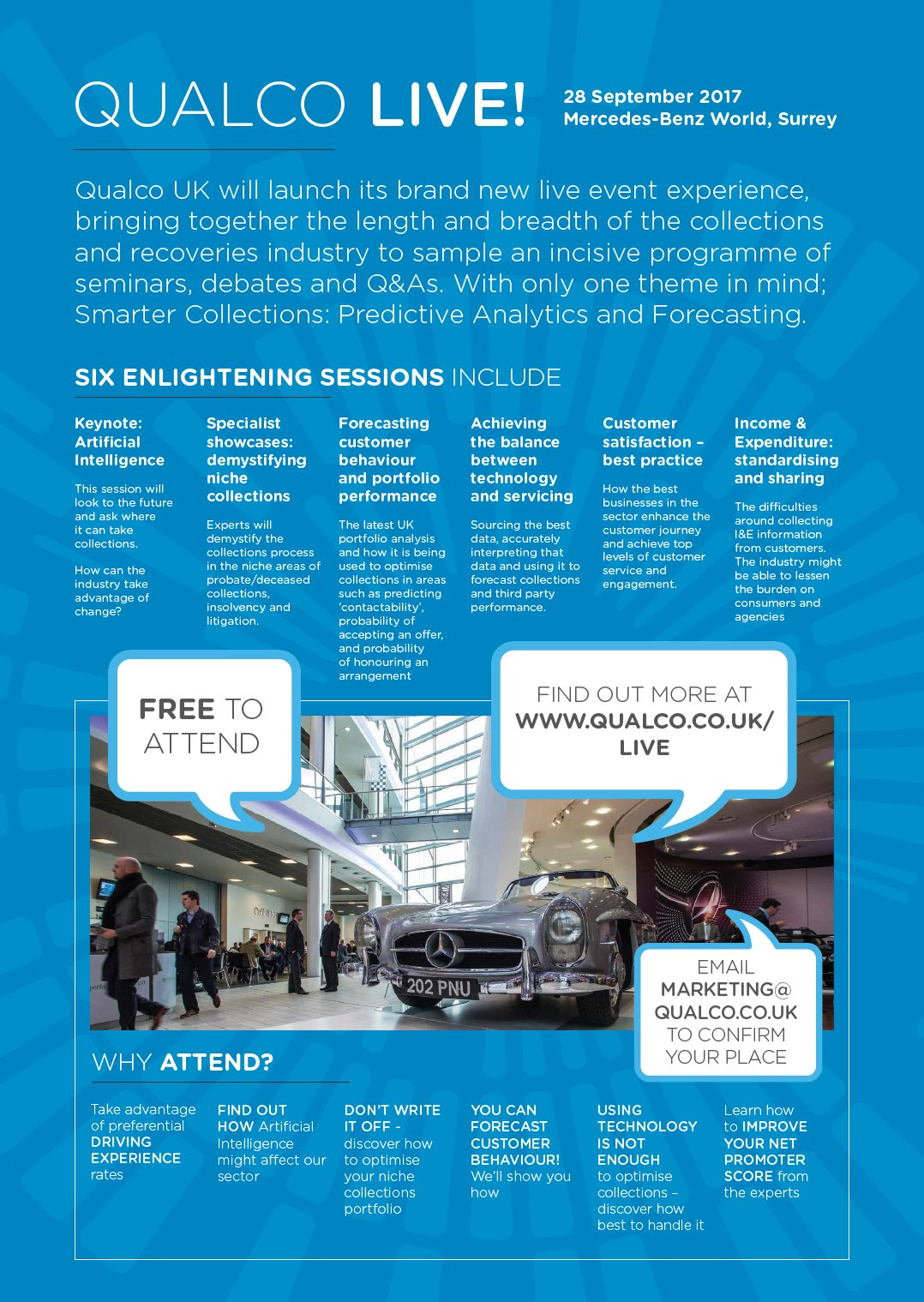 Find out more: http://www.qualco.co.uk/live
Confirm your place: marketing@qualco.co.uk