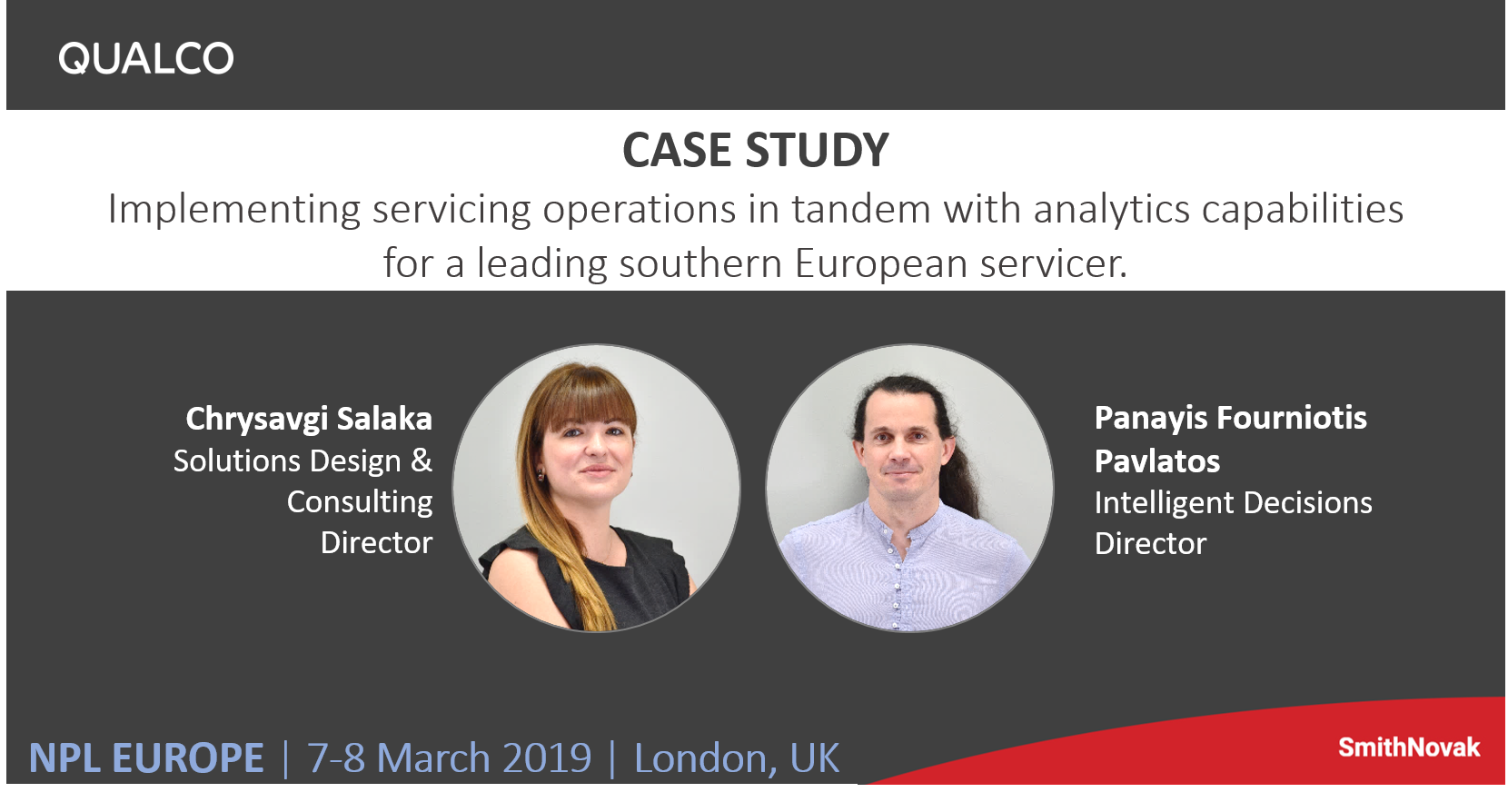 We are pleased to announce that we are a premium sponsor at SmithNovak's European

Non-Performing Loans conference in London on March 7-8, 2019.
---
Join us!
Chrysavgi Salaka and Panayis Fourniotis Pavlatos, are joining Block 4 Room 2 , which is focused on the Technology in the NPL market. On March 7 at 14.15, they are presenting a Case Study: "Implementing servicing operations in tandem with analytics capabilities for a leading southern European servicer."
Bootstrapping a new servicing operation is a challenging undertaking at the best of times, but what about simultaneously equipping it with a comprehensive analytics capability? QUALCO shares some lessons learned -- from both perspectives -- during a recent successful implementation for a leading southern European servicer.
Our experts from our HQ in Greece and the UK will also be joining the conference and look forward to meeting you there. If you would like to arrange a meeting, please contact us at marketing@qualco.eu.
About the event:
With ECB targets forcing a new wave of portfolio transactions across much of Europe, the NPL Europe Conference comes at a time of renewed market activity against a back-drop of Brexit, Italian budget problems, mega-deals, digital transformation and talk of an imminent new recession.
Join more than 300 delegates from 200+ of the most active companies operating in Europe's booming €688 bn NPL market to discuss the latest developments, new information and ongoing trends. Sessions this year will focus on; Ireland, Turkey, Ukraine, Greece, Spain, Portugal, Italy, CSEE, Germany and the Netherlands.
Event Details:
Title: 2019 NPL Europe Conference
Date: 07-08 of March 2019
Venue: Radisson Blu Portman hotel, London
For more info concerning the NPL Europe conference, visit www.smithnovak.com