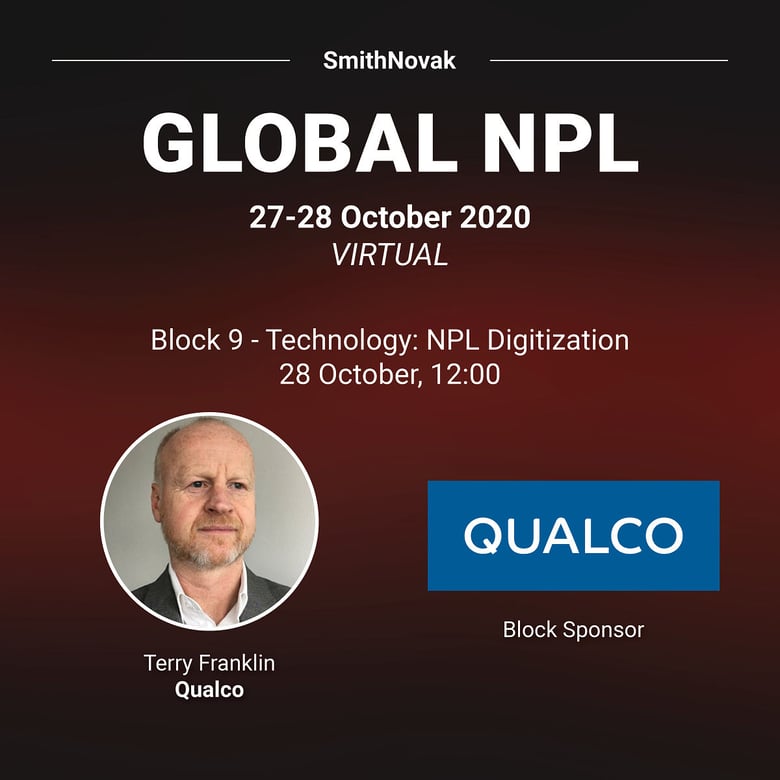 We are pleased to announce that we are a block sponsor at SmithNovak's European

Non-Performing Loans virtual conference on October 27-28, 2020.
---
Terry Franklin, is joining Block 9, which is focused on the Technology in the NPL Digitization area. On October 28 at 12.00pm UK time, he will be giving a presentation on "Ready for faster, better, insight-driven NPL Management?" and joining the technology panel discussion right after.
Proactively identify and manage vulnerable loans during and beyond the pandemic
Rapidly align C&R operations with customer behaviour through Machine Learning and Advanced Analytics
Get digital and self-service capabilities act as a bridge between you and your customers
Re-imagine debt management through a single, constantly evolving technology ecosystem
Qualco's experts from around the globe look forward to meeting you there. If you would like to arrange a meeting, please contact us at marketing@qualco.eu.
About the event:
As government support schemes are relaxed, we will undoubtedly see a massive increase in loan defaults world-wide, resulting in the creation of
significant new opportunities and challenges
for the international Distressed and Non-Performing Loans markets.
To accommodate the majority of its clients who are eager to meet but are currently unable or unwilling to travel to a traditional, in-person conference, SmithNovak have decided to run this year's GLOBAL NPL conference as a virtual-only event, using a premium-level Conference App to facilitate high-quality global networking via instant video calls - this is a very good way to demonstrate
business continuity and on-going market presence.
Event Details:
Title: Global NPL Summit
Date: 27-28 of October 2020
Venue: Virtual
For more info concerning the Global NPL conference, visit www.smithnovak.com