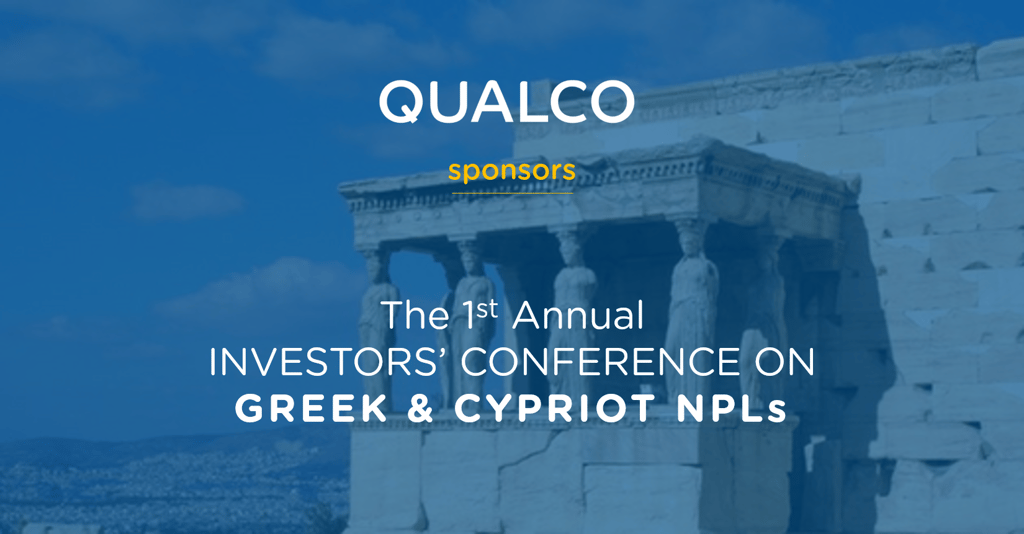 QUALCO is pleased to announce its participation at the
1st Annual INVESTORS' CONFERENCE ON GREEK AND CYPRIOT NPLs in Athens

on
January 29th, 2018.
---
Frixos Ioannidis

,
QUANT's
Portfolio Services Director is speaking at this summit, which is strictly focused on Greece & Cyprus NPLs. Mr. Ioannidis will join the about the
"Developments in 3rd Party Servicing & Asset Verification" panel,
on January 29
th
at 14:15 - TRACK A.
About the event
:
During the conference various topics will be discussed that are critical for servicers, legal counsels and Banks focusing their operation around re-capitalisation and NPL transactions. Indicatively, we mention the following:
Profiling the NPLs: Assessing the Scale, Identifying the Sellers, and Understanding the Assets

Creating a More Efficient Model for the Management of Greek and Cypriot NPLs

Banking and Insolvency Reforms: Modernizing the Country's Private Sector Insolvency Framework

The Role of Securitisation in NPL Resolution

Developments in Third Party Servicing
This event will bring together the key government entities establishing the NPL resolution framework with the bank sellers and loan investors in order to facilitate the establishment of a robust secondary market.
They will be joined by experts in bankruptcy and insolvency counseling, capital markets advisory, and investment banking teams who are working on creative capital markets solutions for restoring bank balance sheets to health.
Key topics to be addressed include:
What criteria is set for international companies applying for a servicing license in Greece?
Local servicers: what infrastructure is required?
Remaining impediments in NPL transfers.
Key risks and challenges for non-bank servicers (regulatory risk, interest rate caps, limits on debtor outreach for loan recovery efforts).


How do recovery expectations differ between sellers (banks) and buyers (private equity)?
Data availability, and efforts to digitalize the loan data on an electronic platform.
Alignment of interest between equity, senior noteholders and servicers.
Importance of investor due diligence and asset quality verification.
Evolution of the 3rd party servicer: servicer specialisation per SME asset class and industry.
What are the differences in servicing models and strategies across industries?
For more info, visit https://www.imn.org/structured-finance/conference/Investors-Conference-on-Greek-Cypriot-NPLs-2018/