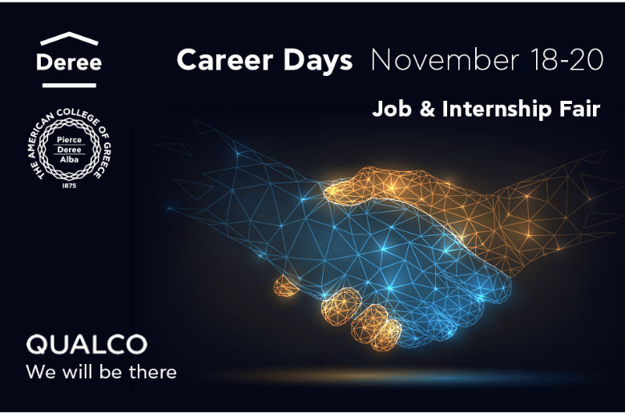 45th Deree Career Days is a Virtual Career Fair Event in Greece hosted by Deree – The American College of Greece. Career Days is open to all undergraduate and graduate students, and recent graduates (up to 5 years) of Deree – The American College of Greece to facilitate their successful transition to the workplace.
It is a day brimming with business acquaintances, interviews with Greek and multinational companies and networking opportunities with exceptional candidates of all fields.

QUALCO, the leading provider of Debt Management Software Solutions and Services will join Deree Career Days event on November 18th 2020.
Our People Team will share with you all the secrets of career opportunities, their career path and will empower you to craft yours. Join us to find out about QUALCO current Carreer Opportunities and maybe you will be our next rising star.
#Explore #Learn #Grow with QUALCO career opportunities!
Event Details: 45th Career Days at Deree – The American College of Greece
Date: Wednesday 18th, November 2020
Time: 12:00 - 18:00